Shiyong (Practical) Kung Fu
There are many myths and legend as to where Wing Chun Kung Fu originated, the most popular and accepted is that it was created by a female buddhist monk called Ng Mui around the time of the Ming dynasty some 300 plus years ago.
The art was named after her first student Yim Wing chun, which translates to ' eternal springtime'.
The art has evolved over time and Fusion Kung Fu brings you a modernised version, called Shiyong (practical) Kung Fu. Bringing together a combined 25 years martial art experience to give you a fast effective & practical style of Kung Fu.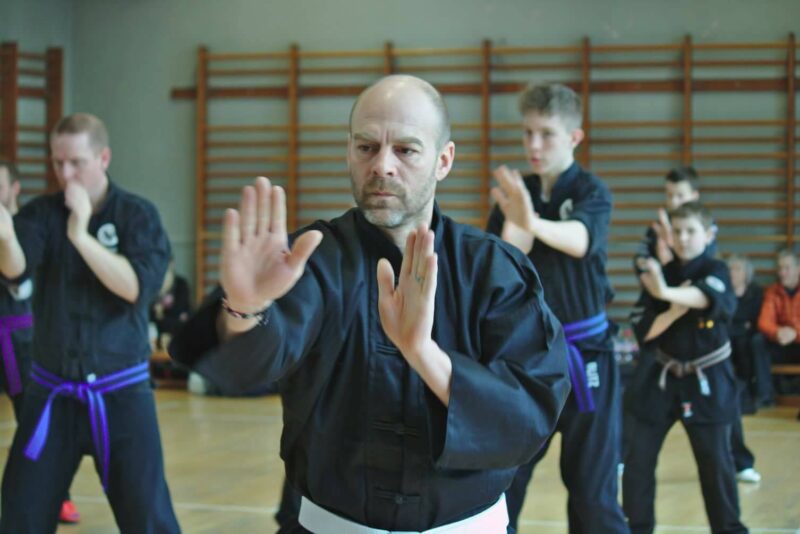 Kung Fu Training for all ages and all levels
We do not teach you to become clones of the instructor. We give you the tools & you then learn to fight in a way that suits you as we are all different.
Fusion Kung fu follows some traditions but is not bound or trapped by them.

If a technique works we will use it & not waste time on learning ones which do not.
EVERY DAY IS AN OPPORTUNITY

Monday & Thursday
All Juniors: 18:15 – 19:00
Adult Beginners & Intermediates
19:00 – 20:00
Advanced
20:00 – 21:00
121 Kung Fu Training is also available
Covid-19 training Rules
General new rules:
The changing cubicles and the toilets are CLOSED, if you need to use them you will need to clean them! (disinfection wipes / sprays available)
Hand Gel, wet wipes and disinfection sprays are available
Kick shields must be cleaned by the user before replacing in the rack
Close contact (strangle, grappling head / neck defences, bear hugs) should be avoided – do not carry out any activity that makes you feel vulnerable
Parents we prefer you to drop your children off
Parents can no longer sit in the training area
Arriving / leaving training rules:
Book your place via the new app
Arrive no more than 10 minutes before the start of your class
You will not be admitted once the class has started
Arrive dressed in training gear
Sign in via the new app or electronically on the tablet provided at reception (if you didn't book / reserve your place on the App)
Use the hand gel provided
Enter the training area through the dedicated "Entrance door" only
Remove your outdoor shoes (socks can be left on) and place on the shoe rack just inside the training area(bowing before you step on the MAT)
Move down the side to place any other garments on the shelving provided
Use the hand gel provided
Step onto the mats when invited by the instructor – observing the floor markers placed at 2M distances
At the end of class, collect your footwear before your garment on the shelving
Leave by the exit door only
Use the hand gel if required before leaving the building
Instructor Covid-19 requirements
Martial Arts Instructors
Upon opening the facility: check all areas for cleanliness, switch on required items and empty dehumidifier
Ensure everyone signs in
Do not allow access to the club prior to 10 minutes before your session
Lock the front door at the start of the session – No late admittance
Ensure everyone has signed a Covid-19 waiver
Check for visible signs of potential Covid-19 systems (if positive send them home for testing)
Ensure everyone enters, exits in accordance with Covid-19 re-opening rules / Risk assessment
Ensure improved airflow measures are in place
Ask all at start of session if they have any Covid-19 symptoms (positive answer – ask to leave and schedule covid-19 test)
Avoid close contact where possible but as a minimum: no bear hugs, neck / face touching techniques, floor techniques)
Do not allow cross use of any equipment without sanitation
Avoid shouting and excessive sweating if possible
Upon completion of session ensure training area, reception area and toilets are sanitised
Emergency response Procedure for Covid-19 Positive test result from session attendee
Inform both Chief Instructor within 1hr of notification (NHSS or Student / client)
Chief Instructor to notify all session attendees within 3hrs (infected person has been in over the last 2 weeks) of possible risk and need for immediate testing (no further session admittance until results received)
All classes to be immediately shut down for 48hrs to allow time for deep clean of entire facility
Notify cleaning crew of need for deep clean (including fogging) request full PPE use during cleaning operation
Inform via email MAGB of infection and actions taken within 12hrs
Upon re-opening check all attendees for visible signs of high temperature
Increase awareness of gov guidelines on Covid-19 awareness
Upon 2nd infection notification, shut down period will be increased to 1 week
Re-opening after 2nd infection notification will require temperature checks on all attendees.
Keeping you safe – Post Covid-19
Here is some of the things we are doing to keep you safe:
Social distancing
Post Covid-19 training Rules
Instructor Covid-19 teaching requirements
Covid-19 outbreak emergency response
Covid-19 Risk Assessment (training indoors)
Covid-19 Risk Assessment (training outdoors)
Pre-booking session App
Limited session numbers
Children / Teens / New starter / Adult session bubbles
One-way system into / out of the training area
No parental viewing during session times
No admittance prior to 10 mins before session or after session has started
No touch water dispenser (cup touches the lever)
Disinfecting & Cleaning
Hand pump sanitisers for use
Atomiser above entry points (automated)
Antibacterial wipes available
Disposable gloves available
No sharing of personal (gloves / focus Pads etc) PPE
Disinfection spray after equipment use (kick pads etc)
Floor disinfected after each class
24/7 dehumidifier running to remove excess moisture / sweat from the air
Improved airflow through training area to constantly change out stale air (external consultant)
Weekly deep clean (external source)
Monthly "Fogging" (external source)
Restricted Class sizes
Maximum XX persons in the training area (inc. instructor)
Maximum number in the building at any one time
Session Segregation (training bubbles)
All above subject to change
Benefits can be achieved from training just once a week in class.  Obviously the more you train the faster you will reap those benefits and see improvements.
To reach grading readiness a student has to attend a minimum lesson count target or above and also be of the required standard to be put forward to grade.
A Kung Fu suit would need to be purchased for grading.
No other equipment is compulsory although you would benefit from having, ie chest guard and gloves as these will help take your Kung Fu to another level.
The biggest commitment is effort.
You will fight only as good as you train.